Cosmetassure
---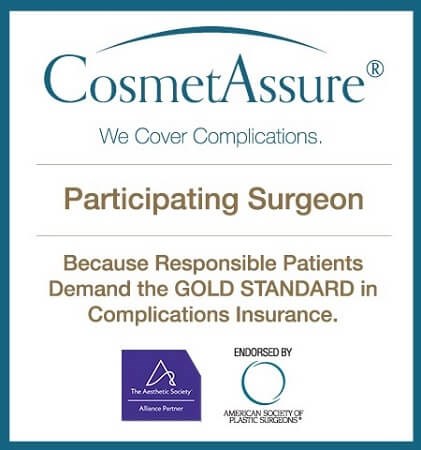 When it comes to elective cosmetic surgery at Levesque Plastic Surgery in Austin, TX; patient safety is Dr Andre Levesque's #1 priority. Every surgery carries a risk of a complication including cosmetic surgery and most insurance companies do not cover medical expenses related to a complication. As a cosmetic patient of Board Certified Plastic Surgeon Dr. Andre Levesque, your scheduled cosmetic surgery includes CosmetAssure coverage.
CosmetAssure was created in 2003 by board-certified plastic surgeons to provide cosmetic patients with insurance benefits in the unlikely event a complication occurs. CosmetAssure is exclusively available to members of American Society of Plastic Surgeons (ASPS) and the American Society of Aesthetic Plastic Surgery (ASAPS). Selecting a board-certified plastic surgeon such as Dr.Levesque at Levesque Plastic Surgery in Austin, TX is one of the best ways to be assured of a positive experience and successful outcome following cosmetic surgery. Membership in either of these elite associations indicates that a surgeon's expertise and credibility have met the highest level of industry standards.
A Participating Surgeon's policy includes coverage for all of their cosmetic patients having one or more of the covered procedures. Talk to board certified plastic surgeon Dr.Andre Levesque and his staff at Levesque Plastic Surgery today about this valuable insurance, or click here to learn more.
Without CosmetAssure, you may be left with a financial burden should an unexpected complication arise after surgery.
With CosmetAssure, you have the peace of mind of knowing that your surgeon Dr Andre Levesque has taken the precautionary steps to cover you in the event of a financial loss caused due to post-surgery medical bills.
CosmetAssure covers patients during the first 45 days immediately following their surgery with their board certified plastic surgeon. Levesque Plastic Surgery automatically enrolls all of our patients who are undergoing cosmetic procedures.
Covered Procedures include:
Abdominoplasty *(NS)
Arm Contouring
Breast Augmentation
Breast Augmentation Procedures (Revisional)
Breast Lift
Breast Reduction
Browlift
Buttock Lift *(NS)
Calf Implants
Cheek Implants
Chin Augmentation
Chin Reduction
Cosmetic Eyelid Surgery
Facelift
Facial Resurfacing **(NC)
Hair Replacement Surgery **(NC)
Liposuction
Lower Body Lift *(NS)
Male Breast Surgery
Mandibular Implant
Neck Lift
Otoplasty
Rhinoplasty
Scar Revision
Thigh Lift *(NS)
Upper Body Lift *(NS)
Vaginal Rejuvenation