What is Renuvion (J-Plasma)
Renuvion (J-Plasma) is a skin tightening device that creates helium plasma by adding energy to the helium in its gaseous state. Helium is a stable light noble gas and does not require very much energy to become a plasma. The helium is passed across an energized electrode and creates a focused stream of low-current cold plasma. The excitation of the helium gas occurs very quickly and the plasma then cools instantaneously.

Renuvion Surgical Techcique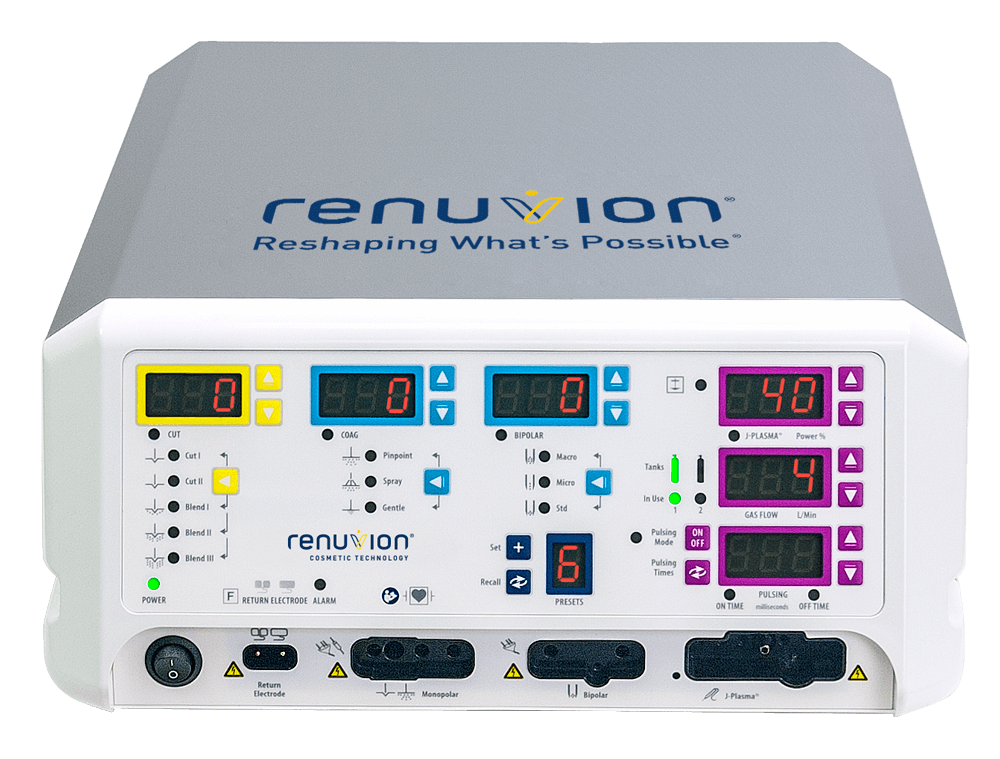 Renuvion is a skin tightening device that utilizes Helium gas in a plasma form to tighten tissue.
A handpiece with a thin cannula is used to deliver the plasma to the tissues. The thin cannula is introduced beneath the skin and the plasma is released into the tissue. The plasma then causes the collagen to contract and results in skin tightening. The ability to deliver the plasma to the tissues below the skin surface prevents damage to the skin surface and results in skin tightening.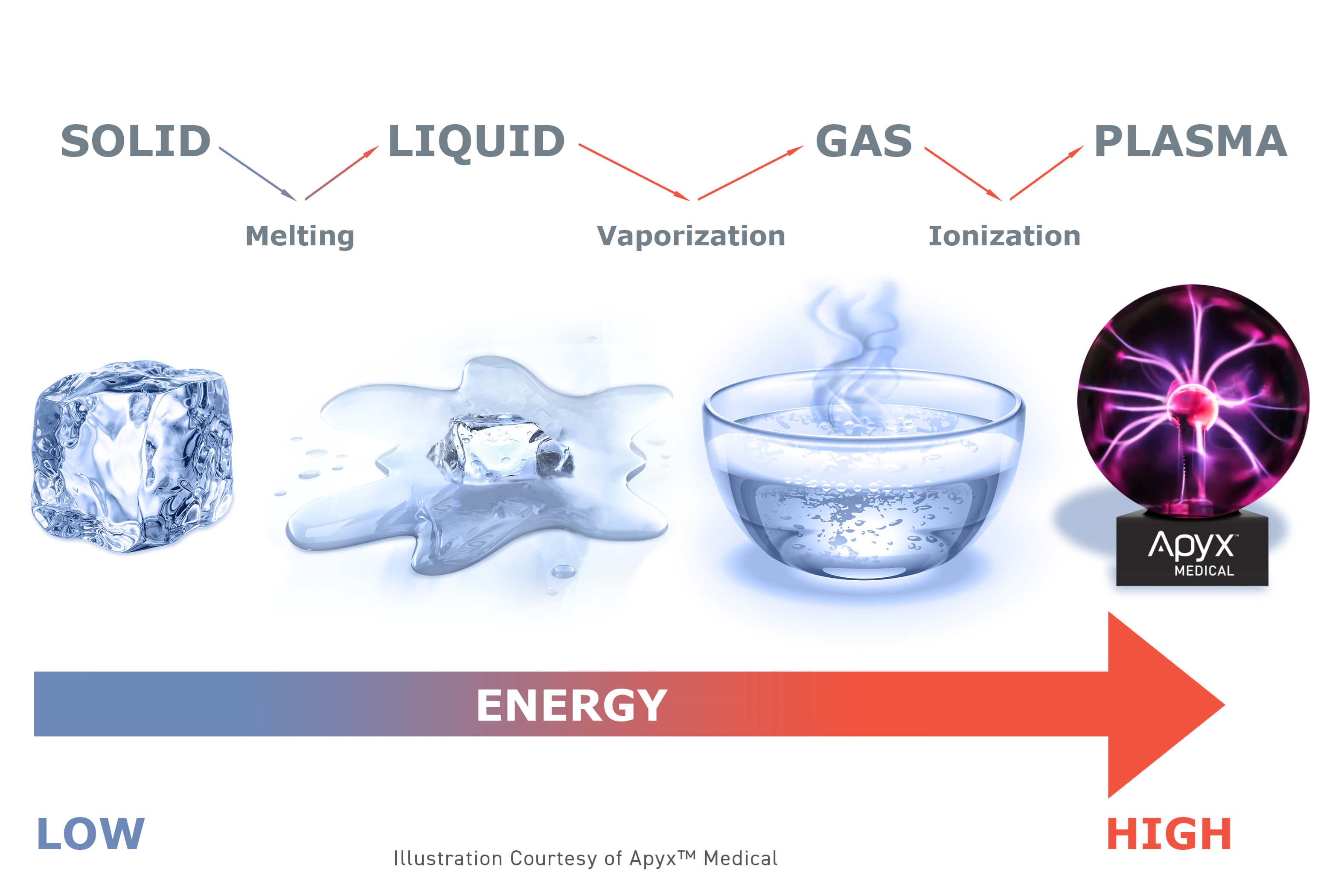 The Renuvion skin tightening device adds energy to the Helium gas to create plasma.

Our Board-Certified Plastic Surgeon Andre Levesque, MD performs skin tightening treatments using Renuvion (J-Plasma) at our office in Austin, TX.
Reviews
"I went to Dr. Levesque for some liposuction on the hard to lose areas of my thighs and flanks. He made sure my expectations were realistic and exactly what he could and couldn't do. He was very detailed in describing the procedure and very patient with questions. It is very obvious he truly cares about his patients and won't just do any procedure a patient wants, but will do what he can to ensure the patient will be happy with the results. For example, I wanted lipo on my rear end. Alot of it. He told me that if he did too much, I would get saggy and explained clearly why what I wanted wasn't a good idea. Other plastic surgeons might have just done it anyway. I felt extremely comfortable with him and trusted him completely. I'm very glad I did! I am extremely happy with my results and would never hesitate to do another procedure with him."
- J.H. /
Google /
May 10, 2019
"Lipo Arms, Upper back, bra rolls, upper chest,abdomen,inner thighs - I've had some lipo done before which had a positive impact on my actual body shape( lower ab/ flanks). I lose and gain weight often due to depression so i've been working on it. This time, when I gained weight it looks went to my upper body is a serious way. Also i've gained visceral fat in my upper abdomen that can only be reduced by diet and exercise, so that's my current task . In the meantime , i've grown tired or this heavier weight up top so i've been researching doctors for a few months around Texas. I also had consults with surgeons in Atlanta and Miami . I was attracted to those flashier doctors at first because they do really aggressive lipo and I feel like I need aggressive especially since i've had some lipo before. That means there will be scar tissue in some areas that will be tougher to maneuver. I'm not interested in a BBL or fat transfer. I'm never going to be a skinny person nor am I gym rat often enough to build and maintain a 6 pack and perfect toned arms and legs. I'm not saying it's impossible but it is improbable. I'm realistic about my expectations with lipo so I know that once this procedure is done , i still have work to do in order to get the upper abs to flatten. In any case , I decided against the Miami doctors because I saw a lot of stories online about women dying on the operating table from various missteps of the surgeons. Of course I know not all Miami doctors are bad but I saw enough. The Miami price are very cheap and tempting. I saw a lot of reviews about women saying they felt like they were in an assembly line and the doctors just rush and bring people in and out. I wanted to save money but not for that much additional risk . Elective surgery is a risk all together-but why add on more risk unnecessarily. So I started to look at smaller boutique surgery centers and found several in my own city which is Austin Texas. From start to finish I had 8 consults. I decided on Dr. Levesque here in Austin and he has a fairly small operation with privileges at a local surgery center. He offers liposuction under general or local- depending on how much work you want and if you want to be fully under . I felt a great vibe from the staff and the prices were fair and I was able to choose general because I didn't want local based on a prior scary experience with a bad doctor. I know i'm the type who needs to just be put under. Of course there are extra costs to go to the surgery center and for an anesthesiologist. Small price to pay for my sanity and surgeons can be more aggressive while you're under and the results tend to be better . The downside( in my opinion) is that the recovery is harder when you go under general because the doctor can just go to town on you pretty forcefully so you're sore. My surgery is tomorrow- May 15th. I'm nervous but I've been in this process before so i'm fully prepared , lol or I think I am. I'm getting lipo to my back, arms, bra roll, inner thighs and some touch up on the abs."
- T. /
RealSelf /
May 15, 2020
"Helen, Dr. Levesque, Holly take the time to listen and respect your concerns. They are conservative with the treatment services and provide their time to consult and truly respect the patient concerns. I have recommend Levesque Plastic Surgery to several friends and family and will continue to do so without hesitation."
- B.C. /
Google /
Feb 05, 2020
"Dr. Levesque is a kind, caring, calm surgeon. I went to him for a rhinoplasty (open approach with osteotomy as well as tip refinement) and cannot express enough thanks for the effortless experience - consultation to post-op. I was able to communication directly with Dr. Levesque whenever I had a concern or question, both pre and post op. I am in disbelief I felt fully recovered after only 3 days post-op and ready to go back to work. I had minimal pain for 3 days post op then switched to NSAIDs, as needed. There was some bruising, which I covered up with makeup. His longtime assistant Helen Klingensmith does my botox and dermal procedures. She is so cheerful, and great at finding the best prices for you!"
- E. /
Google /
Dec 26, 2019
"Love this Doctor and his staff. After being hit by a drunk driver my right hand/wrist had some major repairs that needed to be done. Dr. Levesque walked me through the entire procedure, how/why, and answered any questions I had while I laid in the ER. Knowing and seeing that I was upset that I needed surgery he calmly explained reassured me that my hand wouldn't be "gone". I had 2 pins taken out of my wrist after a few weeks. That's not a "no pain" procedure. He did his best to be gentle and quick. Every time I've been to his office for follow ups he never rushes me, takes time to talk about life in general, always wants to make sure I'm happy with the results, and explains to me different options for the future. Thank you for everything."
- J.H. /
Google /
Oct 26, 2019
Previous
Next
Renuvion Ideal Candidates
Renuvion (J-Plasma) tightens skin by causing the underlying collagen to contract. The most common areas that Renuvion is used to tighten skin are:
Abdomen
Arms
Back
Buttock
Flanks
Neck
Inner Thighs

Renvuion skin tightening treatments can be done independently or in conjunction with other treatments like liposuction. Consultations with Dr. Levesque for treatment with Renuvion for skin tightening are done in our office in Austin, TX. At the consultation patients will meet Dr. Levesque and his staff. Dr Levesque will take a medical history and perform a physical exam to determine if skin tightening with Renuvion will benefit the patient. Dr. Levesque will discuss all treatment options for skin tightening depending on location (arms, abdomen, back, buttock, flanks, neck, thighs); and discuss other procedures, such as liposuction, that may provide the best aesthetic results for the patient.
Skin tightening treatment times can vary from 1-3 hours depending on which areas are being done and how many areas are being done at a time. Dr. Levesque will determine the length of the procedure at the time of consultation.

Recovery from a Renuvion skin tightening treatment varies from patient to patient and also depends on the areas being treated. Most patients will experience some bruising and/or swelling immediately after a Renuvion skin tightening treatment. Most patients who have a Renuvion skin tightening treatment can resume physical activity or return to work within several days of having the procedure. Recovery time will vary from patient to patient and depends on areas of treatment and if multiple treatments/procedures are performed at one time. Dr. Levesque will discuss all recovery processes and recovery time at the time of consultation in our office in Austin, TX.

Renuvion provides immediate skin tightening during the procedure and the skin continues to tighten over the next 4-6 months. The small incisions made to introduce the thin cannula under the skin are approximately 5 mm in diameter and heal within 7-10 days. Dr. Levesque will discuss all aspects of the procedure and healing at the time of consultation.